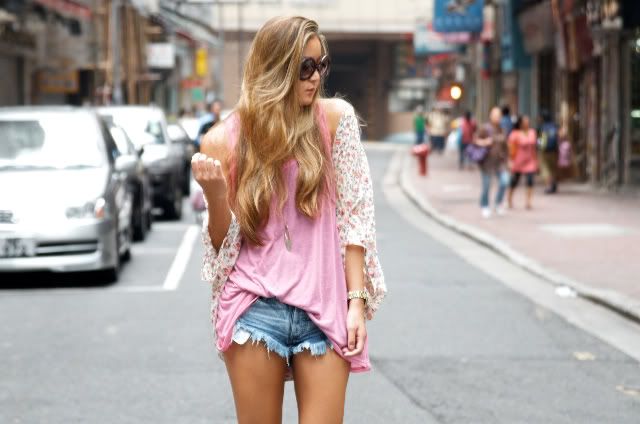 Cotton on silk cardigan, H&M tank, One Teaspoon shorts, Jeffrey Campbell boots, Karen Walker sunnies.
Lazy Sundays. Waking in a groggy mood only to discover the time is far past morning. Forgoing make-up for gigantic sunnies and a layer of flavourless chapstick. Slowly meandering down unusually barren Hong Kong streets searching for a easy solution to our rapidly increasing hunger. Cozily huddled in the corner of a minuscule dim sum cafe while over ordering delicious bite size portions of steamed buns and sticky rice. Rapidly getting through cans of soda in hopes of beating the blossoming headache and slight desire to return to bed. Lose the battle only to settle upon a evening in the spa. I don't think much else will happen today.
Summer is basically over, but Hong Kong's still boiling. I decided to throw in an injection of colour before I retreat into my preferred Autumn colour palette.