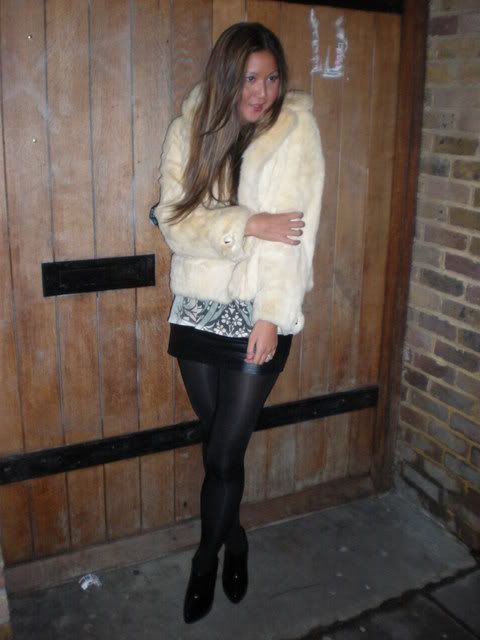 Topshop sequined vest, Urban Outfitters tank, American Apparel wet look skirt, New Look patent ankle boots, Vintage fur, Jewellery from Topshop, Kabiri, and vintage.
We spent the evening venturing slightly further than our usual neighborhood to a spot that is very much worth the trek. Only a short bus journey away, nestled between a strip of nondescript shops, along the grungy road towards Kilburn lies Paradise (Paradise by way of Kensal Green). This ultra luxe pub/dining room is the the perfect hideaway from the winter cold with its inviting antique fireplaces and warm, tastebud friendly food. As I stumbled into the dimly lit venue, I noticed many locals of Notting Hill also visiting the randomly placed pub. It seems the secret is out…a must try if you are ever in the area.
I tried to part with my fuzzy coat for several seconds to get some semi-decent photos of my entire outfit. As you can see, I look very upset sans coat and all smiles again once reunited!