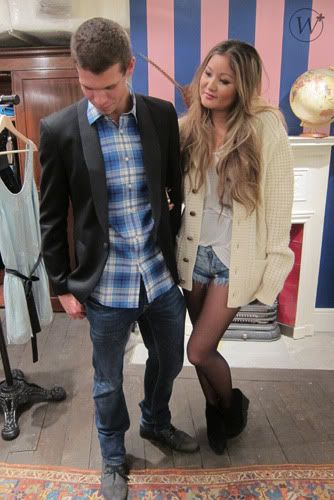 Top picture by JJ of The Wanderlister, Bottom picture featuring Cindiddy, Tania, and JJ by Tim Chang of HungryHongKong.
Last week, a few of my favourite Hong Kong fashion bloggers and I, ventured to Causeway Bay for a special preview of the first Jack Wills store to hit Asia. The location was every bit playful, rugged, preppy, and quintessentially British as you would imagine, and the Jack Wills Asia team managed to bring a little bit of Britain right into the centre of Hong Kong. We played dress up, met the co-founder and head of womenswear, and the boy even participated in an exclusive styling session with our token boy blogger JJ aka
The Wanderlister
. I predictably fell for the over size men's cardigans and their cozy faux fur jacket, while the boy couldn't get enough of their perfectly tailored plaid shirts. Jack Wills will open at Leighton Centre and Harbour City on December 1st. Just in time for Christmas. Go there if you are in need of a preppy, holiday fashion fix.