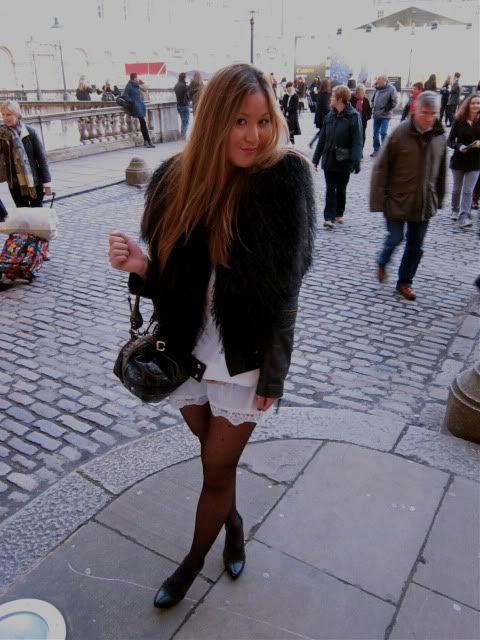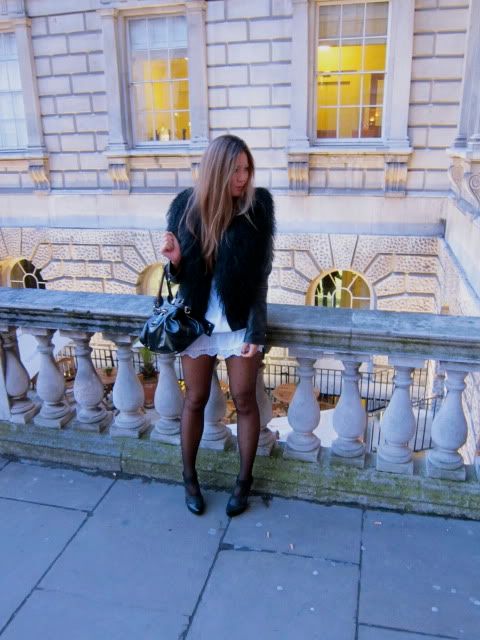 Versace leather jacket, Zara vest, Vintage slip, tights from Japan, Aldo heels, Chloe bag.
London Fashion Week has taken off with a busy start. We started on a delayed note, and was enthusiastically greeted by a throng of streetstyle photographers. I am sure the posse is growing with each season, and is starting to resemble the hungry gang constantly parked outside LA's Mr. Chows. After a half shivering attempt at not looking awkward posing, and confusion about where I should point my smile, we headed towards the crowded late afternoon shows. I happily mingled in the chaos until the boy claimed the heated room and crowds were causing a disorienting dizzy spell, which could only be cured with a champagne break. We ended the afternoon at my preferred LFW sanctuary,
One Aldwych
. Their cucumber gimlet can instantly detour a stressful mood.
My favourite LFW looks so far have to be Bora Aksu's closing blush dresses, with their enticing ruffle detail, and feminine lantern shaped skirt. And of course Hakaan's army of supermodels showing off his sexy minidresses.
Our night closed at
The Diner
with my favourite fashion PR girl, and a short spell at the Lina Osterman and Metal Magazine bash. Jetlag is still crippling my usual late night sessions.