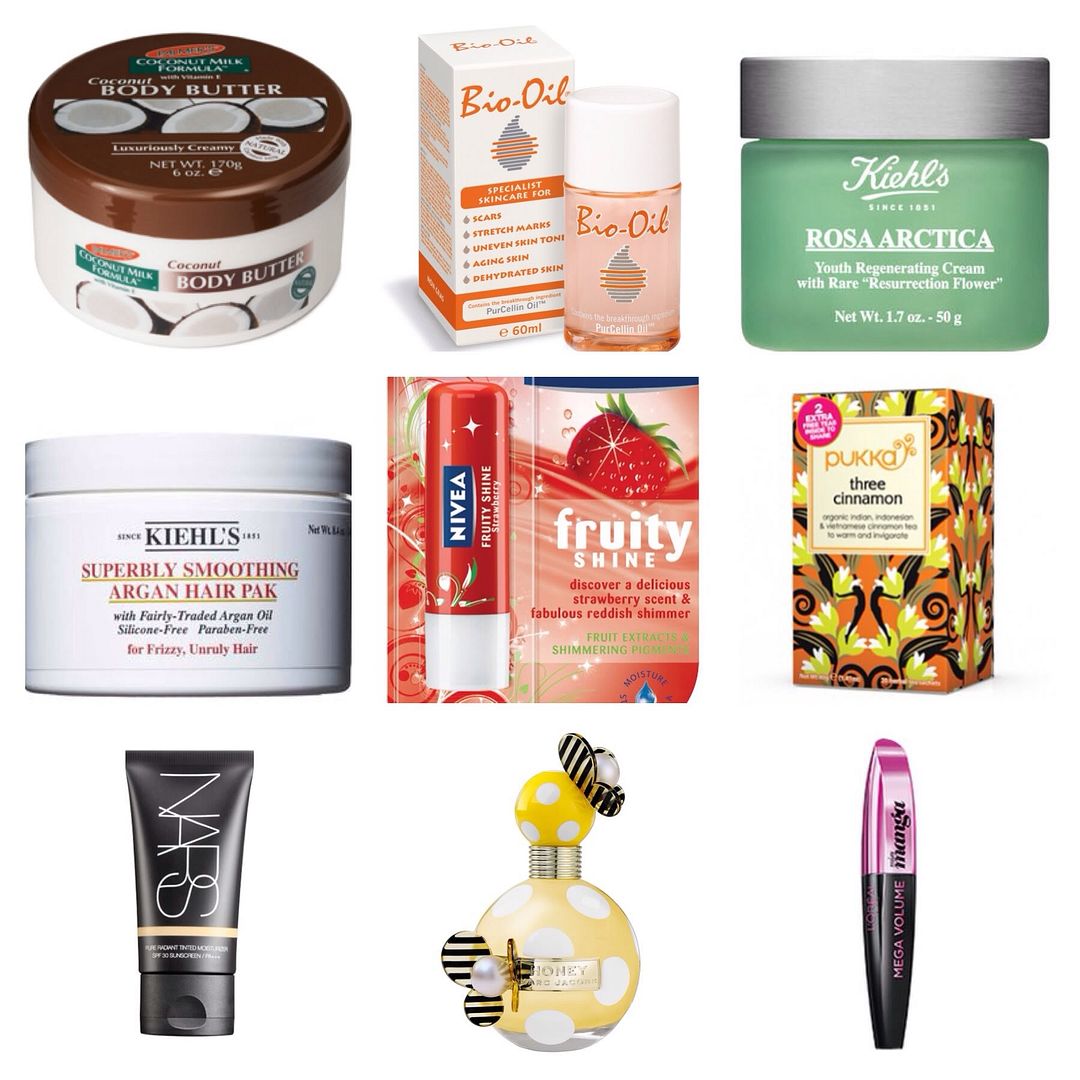 Current products I can't live without
Palmer's Coconut Body Butter: Trying to keep my ever expanding baby bump well hydrated and stretch mark free is a job in itself. I have always moisturised twice a day religiously, but have switched up products since finding out about our new arrival. I love Palmer's body butter. After using various pricey brands, this is my absolute favourite. The smell reminds me of beach holidays and the formula is thick but quickly absorbed. My skin is constantly silky smooth and I will definitely use this after pregnancy too.
Bio Oil: This wonder product is recommended by everyone for keeping stretch marks at bay so of course I had to purchase. I don't love the smell and would prefer a more luxe oil, but I guess the super ingredients get the job done. I slather it over my bump every night before bed and still no stretch marks at the start of my third trimester. Fingers crossed it keeps working.
Kiel's Rosa Arctica: This face cream feels clean and luxurious. A little goes a very long way,so definitely great value for money. I use it as my night cream, and my skin is constantly smooth and glowing. It's perfect for windy winter days and frequent flyers who suffer from plane air parched skin.
Kiel's Superbly Smoothing Argan Hair Pak: I need to restock on this soon. By far the best hair mask I have tried. My hair is so thick, long,and chemically damaged but this makes it manageable and silky soft. I often apply it to wet hair after my shower and leave on overnight if I feel my hair need extra pampering.
Nivea Fruity Shine: Smells and tastes delicious. I keep one next to my bed to keep my lips kissable at all times. Even adds a slight red tint to give your makeup less face a bit of colour.
Pukka Three Cinnamon Tea: Not a beauty product, but I drink this constantly. So delicious. Herbal teas are my obsession of the moment and makes me sip warm water all day long.
Nars Tinted Moisturizer: I am not a fan of foundation or anything heavy on my skin. I usually stick to concealer and powder, but in the winter months when my skin feels a bit pale and delicate, I glide a layer of this on for extra coverage. It's very sheer and feels like a light day cream. Wouldn't cover any blemishes or spots, but does give a slight glow.
Marc Jacobs Honey: Sweet and refreshing. Makes me feel clean and light which is nice as HK starts to get humid again.
Loreal Miss Manga Mascara: I love volume when it comes to mascara, and am not really concerned with length at all. This mascara makes your lashes very dark and thick. Perfect for my smokey eyes.
xx