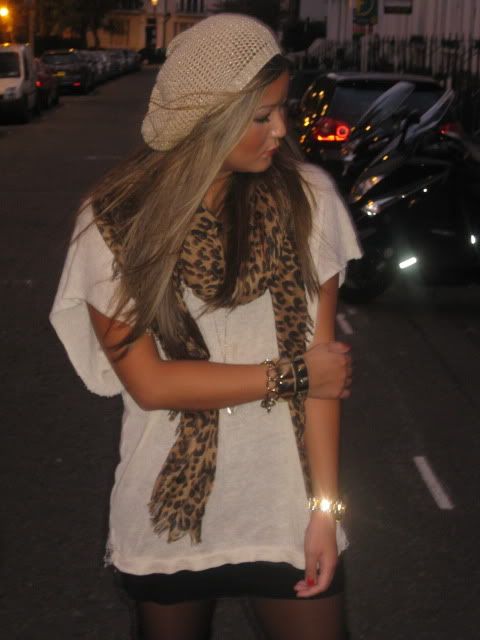 AA wet look skirt, top,skirt,and clutch from boutiques in Hong Kong, H&M hat, Zara boots.

Inspiration can hide in the most obvious places. At times I am in the mood to spot innovative ideas at every corner, lighting up from the scent of a flower, or a passage in a novel. But there are always stages when I feel cornered, and fail to notice loud, inspiring elements that are playing directly in my path. Aside from the usual glossy magazines, trend inspiring blogs, and fashion icon outfit choices, I enjoy sourcing ideas from unusual and unexpected outlets. I'm infinitely inspired by history, culture, and travel. The fabrics, colours, and jewels that dominate in each country can tell a story of their values, traditions, and lifestyle. Art and literature are also strong influences in my life. The way words paint an image that may be different in each person's vision can be incredibly revealing and thought provoking. And then there are the little places where I discover creativity, the people, words, and experiences that stick in my mind each time I write or get dressed. So I would like to acknowledge:
My mother for her sexy, tomboy fashion choices in her youth, and her fearless nature which has always translated in her style. She was infamously expelled from various Taiwanese high schools for refusing to cut her hair and dress according to school uniform. My Grandmother eventually resorted to sending her abroad for high school in the less strict U.S.A. It is incredibly refreshing to know someone who truly dresses for herself, never taking in the judgements or rules of others.
My cousins (hi Katie and Rachel!) who document their entire lives and outfits through hundreds of photos. I think they should blog as a duo. They are both from Taiwan, and love experimenting with trends, colours, poses, and will snap a picture in literally any location. Their images embody the cute, fun "kawaii" look.
And of course all you lovely bloggers who are a daily inspiration for me. I attribute a huge amount of my style to all of you.