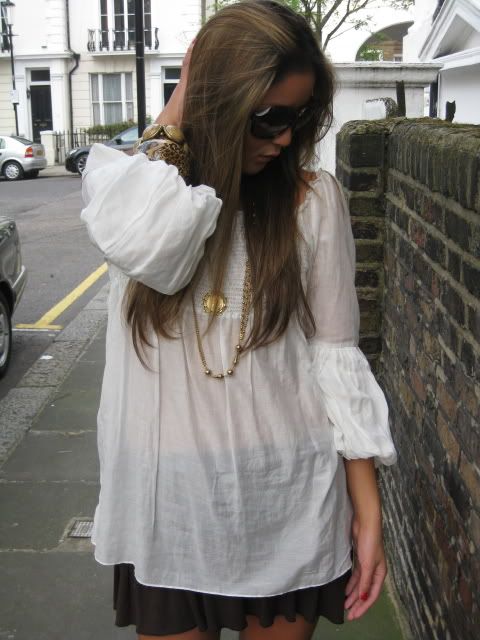 Zara blouse, Jane Norman skirt, New Look gladiator wedges, Topshop and H&M bangles, Vintage necklaces, Miu Miu sunglasses
It seems Spring has decided it is time to come out and play, but only momentarily. Yesterday afternoon I was able to frolic to the pub, sans tights, and immerse in the warmth while sipping a glass of white wine.
Walmer Castle
is my new favorite pub. Not only is it just around the corner, but I have never seen so many fashionable drinkers congregated within a 20ft radius. Chanel, Balenciaga, and Alexander Wang were easily spotted, and there were plenty of doggies to to entertain Chloe (our dog). The stylish factor could be due to the fact that the 'castle' is adjacent to Notting Hill's premier designer boutique,
Matches
, which gives me all the more reason to go.
I'm already outfit planning for our May trip to Barcelona. Here is my ideal 'Spain' beach outfit.
Tibi Tunic, Topshop bracelets, Topshop sandals, Rayban aviators, Forever 21 straw fedora.