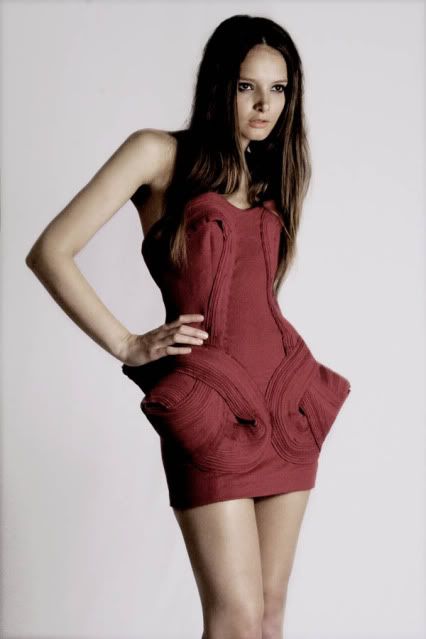 I have recently discovered a line of dresses perfectly tuned to my taste. I briefly met Georgia Hardinge, this September at London Fashion Week, before viewing any of her designs. It was the end of a hectic day, when the champagne buzz was wearing off, hunger was making itself known, and discussion about which party to attend had commenced. I glanced over to spot a stunning, blond model offering her gratitude to my friend (a fashion PR). I was immediately captivated by her outgoing nature, and the unique details of her second skin dress. My assumptions were cleared when, to my pleasure, I was informed she was not a model, but a budding designer who was wearing one of her own designs. I was hooked.
Georgia Hardinge graduated from Parsons Paris and received the Golden Thimble for Best Designer of 2008. Her original designs celebrate the female form. Each body conscious dress is classic and simple, but utilises pleats, depth, and illustrated lines to accentuate a woman's body. Her collection exudes an air of sexy, sophistication while communicating a young, edgy element.
This is an essential collection for any party loving fashionista.