Clouds of rainbow coloured cotton candy, eclectic locals with neon hair, fish that puff into large balloons adorning the tanks of quaint eateries, real life Mario Bros racing in go carts through the busy streets, who says your kids will be bored in Tokyo? The vibrant and bustling city is full of culture, mouthwatering traditional food, sparkling views, and welcoming locals who will make your children feel right at home.  Here are a few tips and must sees to help you plan your next trip to one of our family's favourite cities.
Things to do: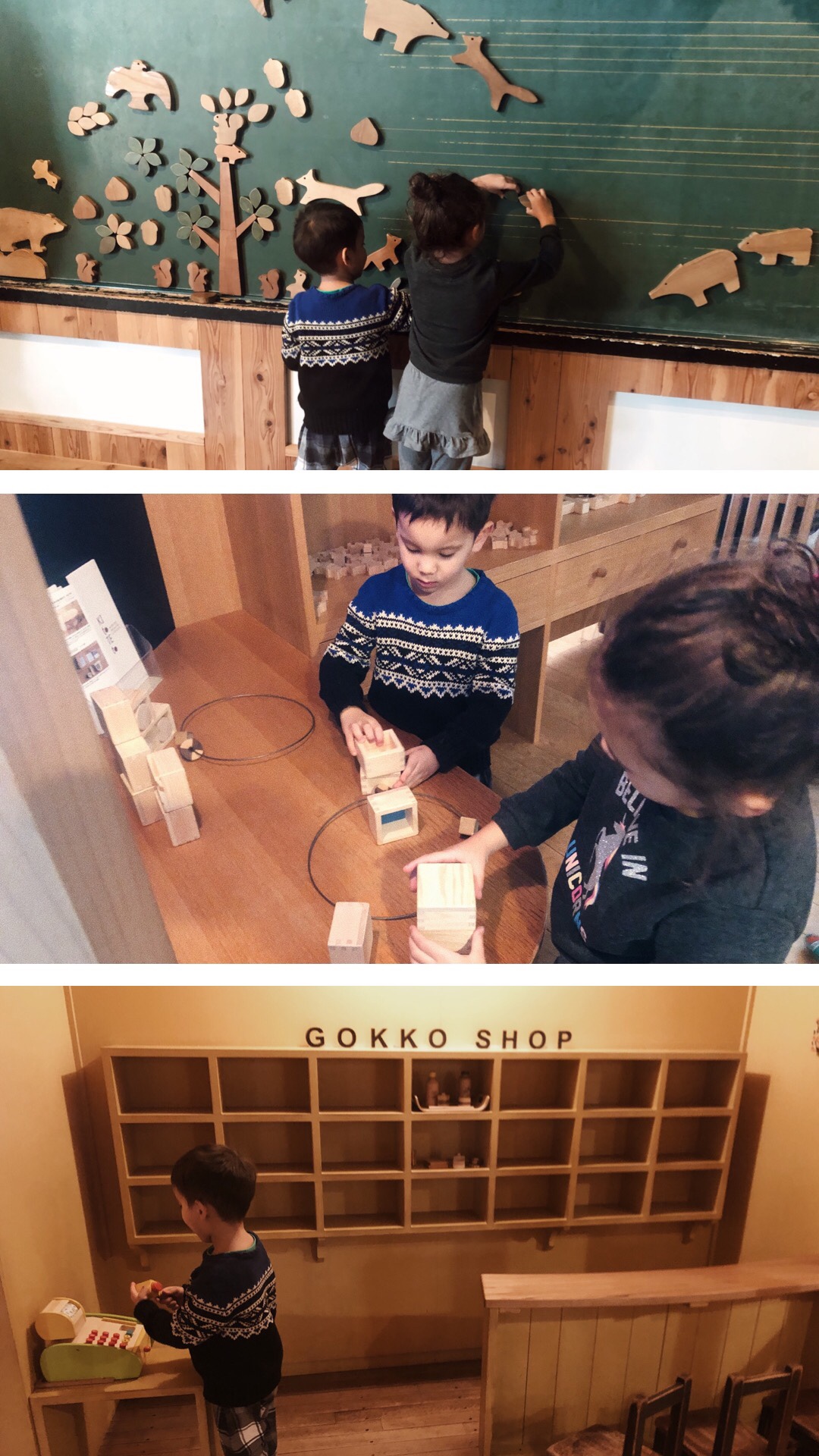 Harajuku
Brace yourself, this street will be very busy but that's half the fun of Takeshita Dori.  My son, who was only three at the time, perched atop my husband's shoulders as we traversed the iconic road.  Your eyes will rove in every direction taking in the lights, colours, and people.  Fruit and whip cream filled crepes are served to eagerly waiting patrons and you can grab a selection of kawaii souvenirs from the sidewalk.  We couldn't resist treating our kids to a giant rainbow cotton candy at Totti Candy Factory and laugh at the awe on their faces when they attempted to eat the concoction.  Don't miss a trip to Daiso the 100 yen shop and buy a few fun bento boxes, cartoon socks, or unique Japanese cooking equipment to bring home.
Meiji Shrine
The perfect place for you and the children to admire Japanese culture and architecture.  The walk into the shrine is both grand and beautiful, submersed in towering trees and greenery. You can talk to older children about the history of the shrine and the emperors of Japan's past as you explore the ambient scene.  Located near Harajuku and adjacent to Yoyogi Park there's plenty more to do after your visit and easily accessible wherever you are staying.
Shibuya Crossing
This famous crosswalk is quite the sight during rush hour.  Go in the evening and your kids will love crossing with the masses while viewing the neon lights which surround the area.  You'll be joined by many photographers and photoshoots and if you're lucky this is the spot we often see people dressed as the Mario Bros riding go-carts through traffic filled roads.  Our children were pretty convinced they were the real deal.   After crossing you'll be near a huge variety of delicious eats at affordable prices or cozy coffee shops to relax after a long day.
Sanrio Puroland
Sanrio Puroland is a must for Hello Kitty lovers.   My daughter is ardently obsessed so we knew a visit was in order. Even kids who don't know the characters will enjoy the shows and rides, and maybe even seeing the other fans dressed up for the visit. Snap a memorable photo with one of the themed characters and admire the perfectly displayed food that looks almost too cute to eat.
Tokyo Toy Museum
Located in a former elementary school you'll find an interesting collection of Japanese toys, both historic and modern, in an array of playrooms and exhibits. The games and toys are very suitable for young children and they have free arts and crafts led by the friendly staff as well as a lively outdoor area when weather permits.  I loved the natural wood design, educational Montessori style play stations, and the fact that facilities are very well equipped for diaper changing, breastfeeding, and napping toddlers.  It's a relaxing haven away from the crowds and lights of the city and also gives insight to Japanese culture and education.
What to eat: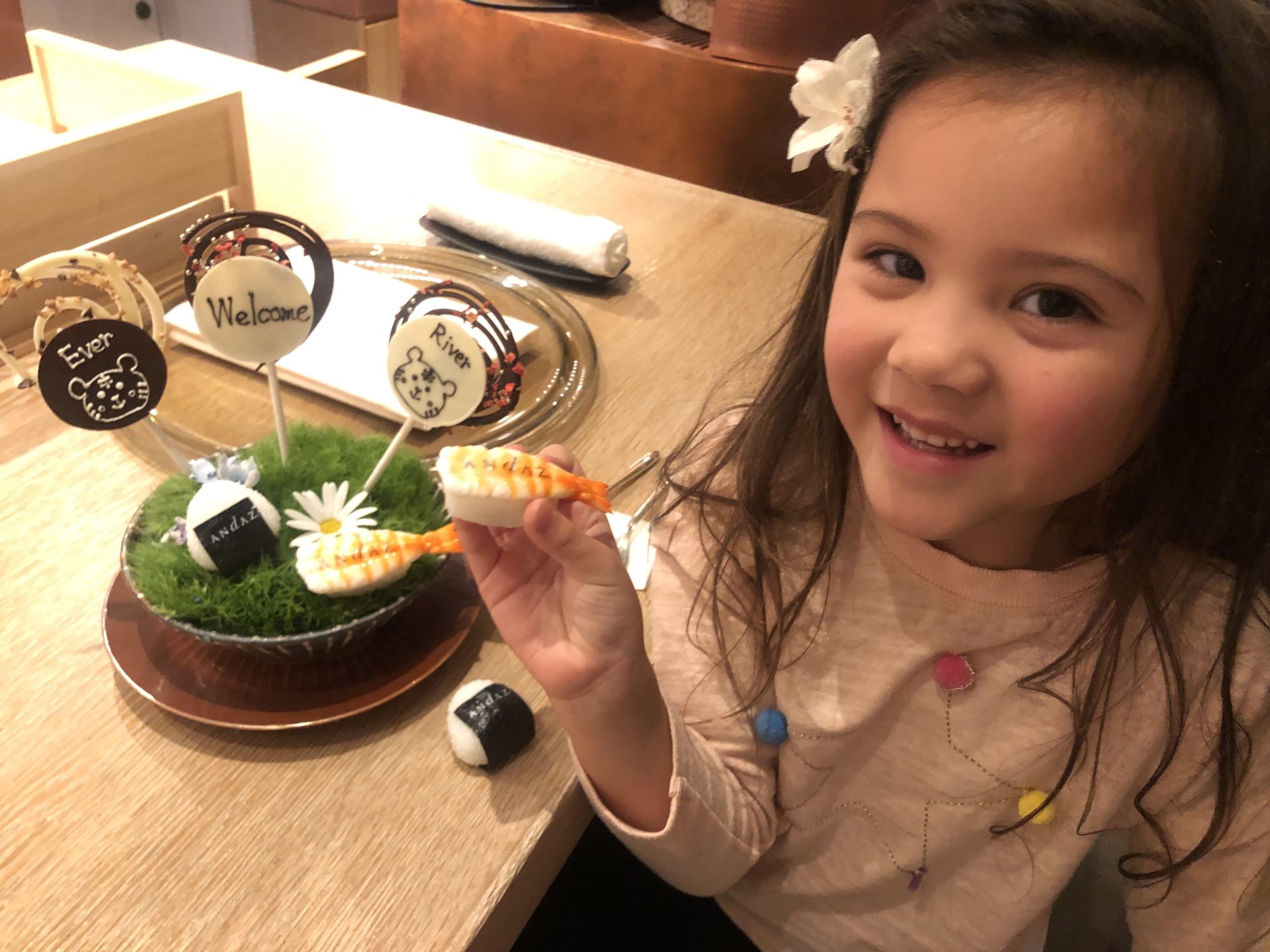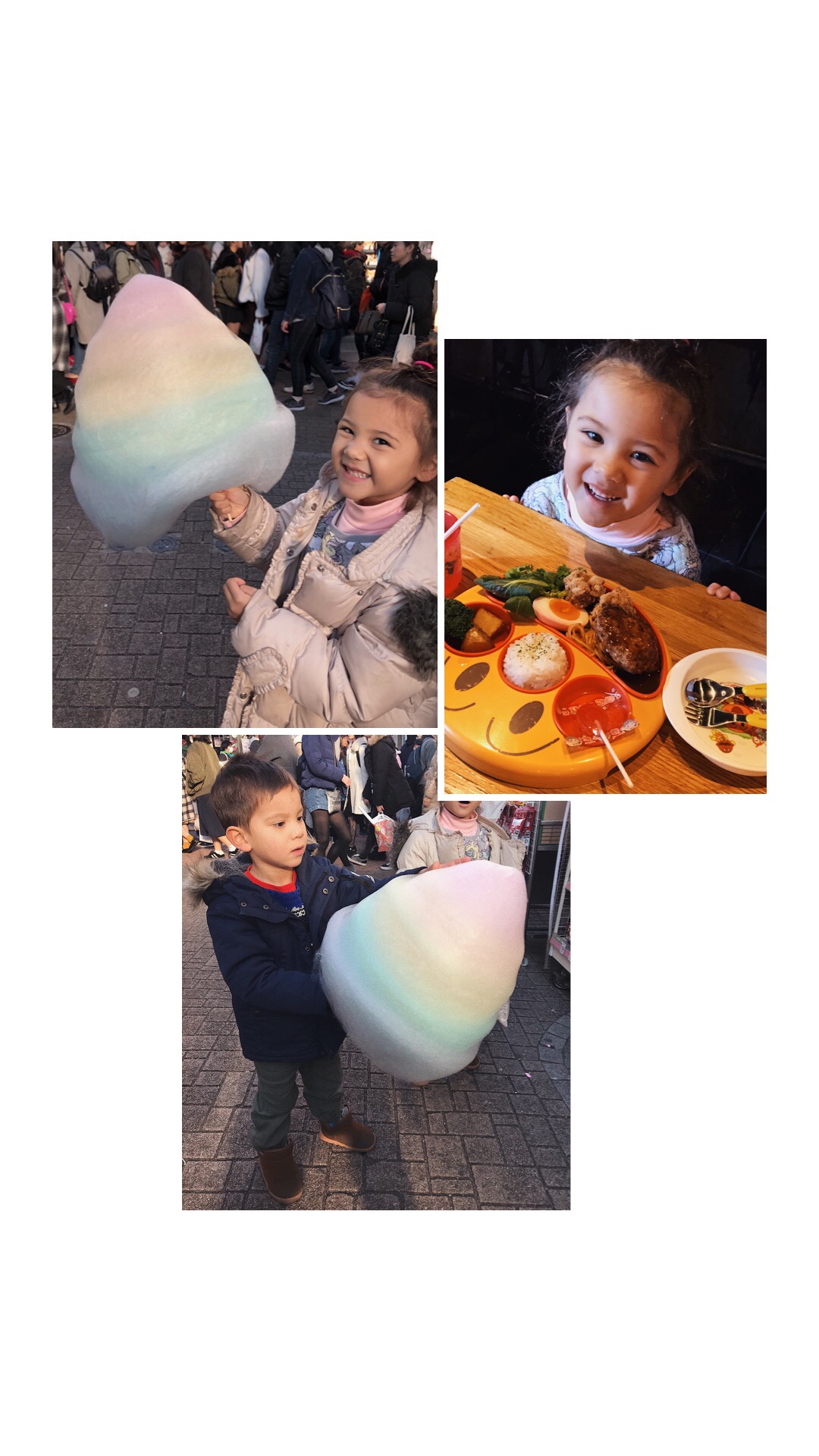 Ramen
Ramen joints are littered all across Tokyo and are perfect for family dining. Pay for your order at the vending machine at the front and grab a seat along the cozy bar for your delicious and easy meal.  Our kids enjoyed watching the chefs prepare long bunches of noodles and spooning soup from the steaming pots and couldn't get enough of the ramen in both tonkatsu and soy sauce variety.  Popular spots for ramen include famous chains such as Ichiran and Ippudo, but we enjoyed the noodles at any welcoming local restaurant.
Revolving Belt Sushi
Children will delight at watching the small plates of sushi traveling along the conveyor belt and a competition to stack as many finished plates as possible will have them trying many new flavours.  Our kids can't get enough of tomago egg nigiri, unagi, ikura, and salmon sushi.  You'll also find simple udon dishes, steamed rice, and miso soup for toddlers and a variety of traditional desserts to complete the meal.  Hamazushi boasts over 400 locations across the country and has very reasonable prices and Genki Sushi is always delicious and even has an electronic screen at your table for ordering if you don't see what you're craving on the belt.
Hambagu (Hamburg Steak)
If you're worried about your kids eating Japanese food during your visit we are pretty sure they'll enjoy hambagu or hamburg rice.  This is  basically a classic hamburger patty, made with either pork or beef,served over rice, sometimes topped with an omelette and some mild curry sauce.  Our son devours the whole lot but our daughter prefers it without the sauce.  Gold Rush, located in Shibuya, has been around since the 80's and has a distinct American style if your kids are missing home.  You can even order your hambagu with cheddar cheese on top.  For a gourmet foodie option head to Matsusaka Ginza and grab the Wagyu version for an indulgent treat.  We are sure you'll enjoy it as much as your children.
Omakase
Leave your meal up to the chef and partake in an omakase dining experience.  This is a must for foodie parents who don't want to miss out on Japanese dining while visiting Tokyo with kids.  These are our favourite traditional dinners where the ingredients are always fresh and seasonal and we usually discover new flavours or dishes by recommendation of the chef.  Half the meal is watching the meticulous preparation of each bite, which is a fun and mesmerising experience for the whole family.  Book early as there are usually few seats and check if they allow children first.  Hotel restaurants, such as SUSHI at Andaz, are great for a first time Omakase dinner and can often prepare special menus for children who aren't into sushi or fish.
Where to Stay:
One of the most luxurious hotels in the city and child friendly too.  You can't beat the impeccable service at Ritz Carlton Tokyo where the staff are always eager to cater to your child's needs. The Carlton Suite, boasts breathtaking city views, an immense amount of space, and a truly decadent bedroom. They also offer exclusive Ritz Kids programs for families with The Ritz Kids Night Safari program as a true highlight. The package includes a camping theme complete with a fully equipped tent, compass-designed floor mat, pajamas, curated camping amenities, and a Home Planetarium,' by Japanese-based Sega. They also had the cutest mini slippers, safari hats, rubber ducks and even bubble bath for little ones.  Children are encouraged to explore the hotel during their space giving parents peace of mind and a luxurious experience for the whole family.
The rooms at Andaz Tokyo are refreshingly modern, complete with panoramic city views, decadent bathrooms, gigantic luxurious beds, and plenty of space to add an extra bed for your toddler. Children's amenities are abundant including welcome juice boxes and colouring books, character pillows, baby slippers, mini yakutas and terrycloth robes all provided for each child.  Our kids loved the restaurants at Andaz with the indulgent breakfast buffet a highlight of each morning.