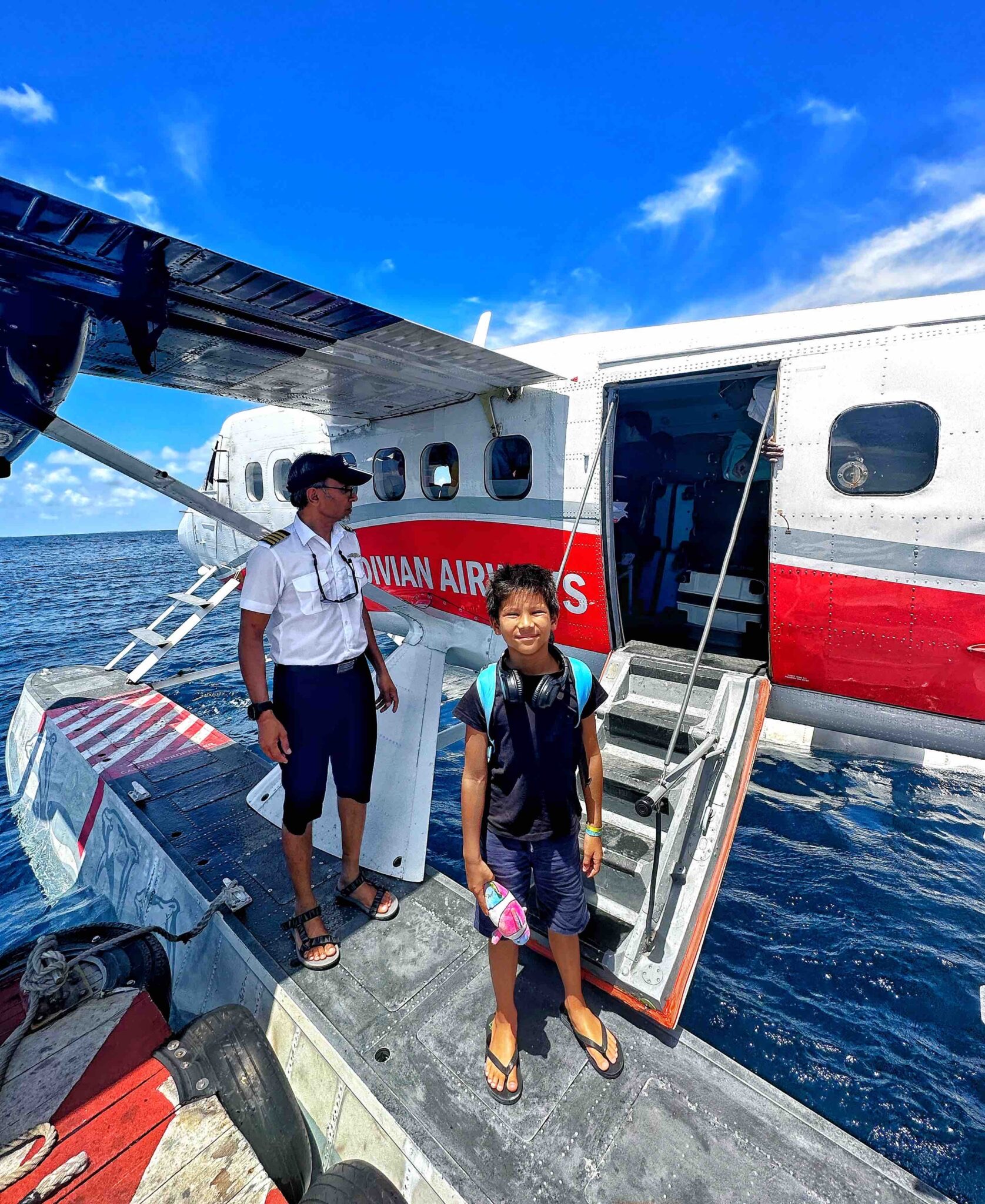 If you're looking for that welcoming, family friendly Maldives resort located in one of the country's most stunning atolls check out Centara Grand Island Resort Maldives.  The picturesque island draws you in with its stunning turquoise waters and idyllic scenery but also offers a plethora of five star facilities, room categories for couples and families, and dining options sure to please any foodie.  We loved our Two Bedroom Beach Villa with Private Pool which boasted two ensuite bedrooms, a spacious lounge and outdoor deck, and refreshing swimming pool just steps from the enticing ocean.  If you're looking for a romantic getaway book a sunset facing overwater villa and those with toddlers will be happy to hear Centara offers overwater villas with bunk beds and fencing around the outdoor deck to ensure little ones are always safe.
Active families can head straight to the waterspouts centre and pick up complimentary snorkelling gear for the duration of your stay.  The house reef is one of the most lively we've seen and our children even encountered the resident turtle during their excursion. Being located in the South Ari Atoll means the resort is in a marine protected area known as SAMPA, the world's most unique and significant sites for whale sharks. Centara organises boat trips with their knowledgeable dive team to well known sites where you have the chance to see and swim with these incredible creatures. A bucket list experience for the whole family.  If your children are too young to snorkel book a trip in the resort's semi-submarine and see the underwater world from the safety of the vessel.  Grab a kayak or stand-up paddle board to explore the majestic waters or lounge at the beautiful main swimming pool with a cocktail in hand.  Drop your children off at the fully staffed kids club while you enjoy a tranquil couples' massage at the resort's world class spa or partake in a mocktail crafting session or cooking class as a family.
We loved all the restaurants at Centara especially the Italian fare and overwater location at Azzuri Mare and the authentic Thai fare at Suan Bua.  Upgrade to club level and have exclusive access to "The Club."  Guests are treated to a la carte dining, a serene and private pool area, and stunning secluded beach.  For an unforgettable evening book a dinner and movie under the stars.  The incredible team will set up a dreamy private setting where you can enjoy a gourmet feast and favourite movie with your feet in the sand.
The amazing team at the five star resort go out of their way to ensure guests have a memorable and comfortable stay.  We felt right at home from the start and were so sad to the leave on our last day.  If you're looking for a picturesque, fun filled home away from home for your family book Centara for your Maldives adventure.
——————————————————————————————————————————
No trip to the Maldives is complete without an epic seaplane ride and Trans Maldivian Airways offers the best service in the islands. Centara Grand Island Resort is accessible by a seaplane journey from Male where the friendly and welcoming Trans Maldivian Airways pilots and staff will ensure you have a safe and memorable journey. TMA as the World's Largest Seaplane Operator with a fleet of 62 DHC-6 Twin Otters, flying to over 90 resorts in the Maldives. Our children are enthralled by every water take off and landing. You don't get more island vibes than arriving at your resort in the comfort of a seaplane. Thanks to Trans Maldivian Airways for always giving us the best views from above.
I am a fully qualified independent travel agent specializing in Luxury Family Travel.  I'm here to plan your dream family holiday, create a personal itinerary to suit your family's needs, and give you all the first hand knowledge I have from travelling full time as a family.  Contact me at [email protected] assist in booking your next trip.